With our tried-and- tested model, philosophy and competences, we are able to lead the projects to success under a wide variety of conditions. As a customer you benefit from our experience, motivation and flexibility …
An IT project is a risky business!
We could lead projects to success
We have know-how, competencies, and methods, and we are committed to using them to the benefit of our customers
You as our customer profit from our competence, experience, motivation and flexibility
Our concepts keep up with the times and are constantly developed and perfected
Our motivation: customer value and satisfaction
IT is now a powerful and often indispensable tool. Hereby would be all countless business
processes supported and optimized. The reasons for the IT projects are mostly the customer benefits and ROI.
However, it is no secret that too many projects fail or the criteria of the magic triangle (results-time-costs) are not met.
The product name "PROJECT LINE CYCLE"
originate from the steadily increasing experience, working with expert groups and resulting sovereign view of the IT projects: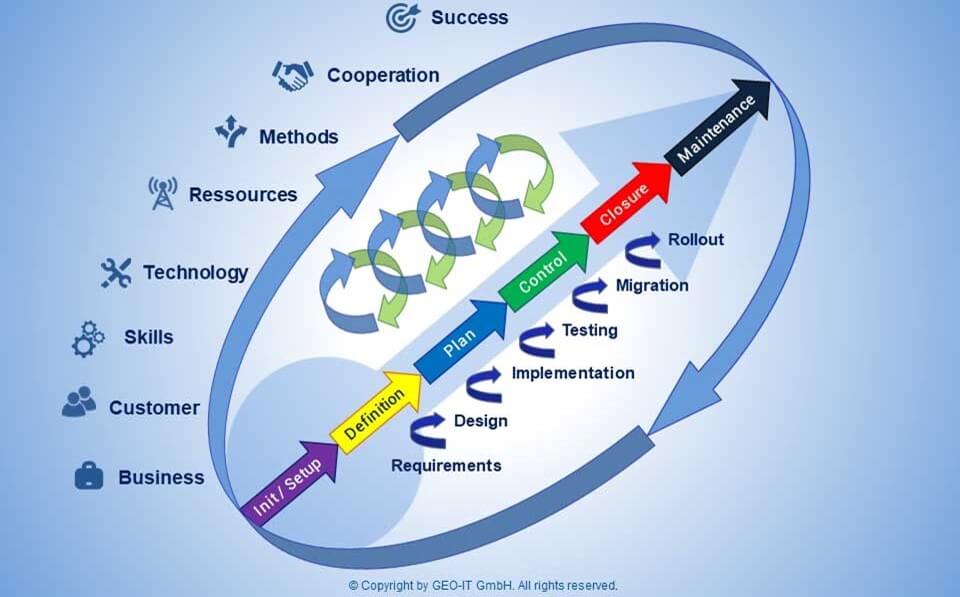 Project
has a simple definition and is just a journey to results and goals. And the best memories of a trip are the positive experiences, experienced travel guides and successful terminations.
Line
No matter which approach (waterfall, V-model, scrum, etc.) is chosen, a project always has a time reference, we are on the timeline, the line.
Cycle
On order to achieve the highest chances of success and to meet the project objectives (often "moving target"), we have to circum around the time horizon with efficient resources and energy and the appropriate methods and processes
Our leitmotifs are customer satisfaction, goal, and result orientation!
The appropriate project-related "mixture" ensures the quality, success opportunities and profitability of the project, project staff and your company!
Project Leadership Phylosophie
You can see how daily the blogs or forums are buzzing and discussions about the forms of project models, tools or processes are debated. The opinions will always be different, whether it is company standards alone, whether the scrum is the only solution, or if you need project management at all.
The fact is, however, that there are projects that have successfully and successively accepted successes as well as failures with each of the well-known models, with and without project management, with or without processes as a generalized recipe.
When it comes to project implementation, for a long time we do not "talk" anymore about the nature of the problems. We do what is necessary, success-oriented and leads to the goal. And, for that we use our experiences, competencies and minds! Also, no matter of which or how many project management is required, the following blocks (3xPM) are always important. The only question is how to build it correctly …